Projects –
Preserving the past for future generationst
Preserving the past for future generations is the goal of the Cabrillo Beach Boosters.
The Bathhouse was declared a historic landmark in 1989 but sat in despair for many years eventually in 2001 the funding came and renovations began. On October 12, 2002, its 70th Anniversary the Cabrillo Beach Boosters were proud to see the Bathhouse re-dedicated.
The Angels Gate Lighthouse is currently suffering from the effects of age, weather, vandalism and neglect. With cooperation and assistance from the United Sates Coast Guard the Cabrillo Beach Boosters hope to restore the lighthouse to its former glory and preserve it for future generations as they did the Bathhouse.
The Cabrillo Beach Boathouse and Pavilions is our vision for the future. The rebuilt Boathouse and Pavilions will restore the historic fabric of the beach to create a true public legacy for all generations to enjoy.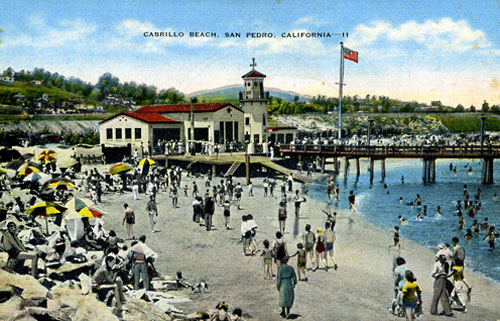 E. C. Kropp Company Postcard – Date unknown