Directors
The Cabrillo Beach Boosters Officers and Board of Directors
Gary Dwight – President
Gary W. Dwight is the Managing Director of Cross America Financial, LLC. CAF LLC provides collections services to both the healthcare and financial industries. Prior to CAF LLC, Gary was the Managing Partner of Palos Verdes Street Investments LLC. PVSI LLC was formed by Gary in 2004 to first acquire and then entitle a 1.2 acre parcel located at the core of a redevelopment district in downtown San Pedro, CA. As the managing partner, Gary was responsible for raising capital and oversight of all monies raised as well as the creation of a development and entitlement strategy enabling the development of an 18 Story, 251 unit residential, mixed-use high-rise.

Gary has held sales and sales management positions overseeing both national and international territories in his 20 years experience in informational and risk management systems, including Director of Sales for Front Capital Systems – a wholly owned subsidiary of a multi-billion dollar, publicly traded provider of trading and risk management systems for the banking and financial industries.

He holds a Bachelors degree in Finance from California State University, Long Beach.

President of the Cabrillo Beach Boosters – 2002 to Present.

Director of Angeles Gate Cultural Center – 2008 to Present

Treasurer for PortTechLA which is a public/private non-profit technology center and business incubator operated by a coalition consisting of the City of Los Angeles, Port of Los Angeles and the San Pedro and Wilmington Chambers of Commerce – 2008 to Present

Additionally, he is a fourth generation resident of San Pedro

Alan Johnson – Treasurer

Nancy Budar – Secretary

Nancy Budar was born and raised in San Pedro, California. She became involved with Cabrillo Beach in 1969 under the tutelage of John Olguin as a student volunteer at the Cabrillo Marine Museum.
In the early 1980's the Museum was closed and the contents were distributed between the new Cabrillo Marine Aquarium and the Maritime Museum.
The old museum building was unoccupied for 20 years. However, the building was refurbished and was to re-open as a division of the Parks and Recreation Department with the City of Los Angeles as the Cabrillo Beach Bath House. The City set up an Advisory Board, where she became a founding member. The Advisory Board developed programs and activities to provide awareness and to make improvements at Cabrillo Beach headquartered at the Bath House. After her term of office on the advisory board ended, she joined the Cabrillo Beach Boosters. The boosters provide the funding for the services and development of Cabrillo Beach established by the advisory board.
She serves on the Board of Directors as the Secretary for the Cabrillo Beach Boosters and the Point Fermin Lighthouse Society.
A graduate of San Pedro High School, she became a Social Studies Teacher and School Counselor with LAUSD. She is currently a counselor at her Alma Mater San Pedro High
Joe Radisich – Board Member
Joe Radisich was born and raised in San Pedro. He has lived in San Pedro for 74 years. Joe was a High School Football coach and worked on the waterfront for 45 years
He is a member of the:
Cabrillo Beach Boosters
United States Lighthouse Society
The Tree People
Clean San Pedro
San Pedro Elks
Dalmatian American Club
National Coaches Association
Founder of the Instructional Football Camp UCLA
Founder Terry Donahue UCLA Football Camp
Ray Olson – Board Member
Ray Olson is a construction manager/superintendent who has been employed for 40 years at Millie and Severson Inc. located in Los Alamitos California.
He oversees multiple supervisors and has worked on projects of up to $150 million. He brings to the Cabrillo Beach Boosters Club experience in construction of all types of structures, pre cast, structural steel, concrete, wood frame structures, restoration work and waterproofing.
Ray's capabilities lie in his up front project planning, organizing, logistics, trouble shooting, creative solutions, commonsense approach, familiarity with environmental issues, air quality, water quality, and storm control. On top of all that he is personable and easy to get along with.
Jerry Butera – Board Member
Jerry Butera is a 60 year resident of San Pedro. He attended White Point Elementary School, Dana Junior High School, San Pedro High School and Los Angeles Harbor College. Jerry is a retired landscape gardner. He worked 33 years for the City of Los Angeles, Department of Recreation and Parks. In the early 80's he became supervisor of Averill Park and remained there until retirement. Jerry also worked for the Los Angeles Harbor Department as a landscaper for many years.
He fell in love with the ocean and beach at an early age. His love of the ocean came from his dad who was a commercial fisherman all of his life. Jerry started hanging out at Cabrillo Beach and became hooked on surfing, paddle boarding and life guarding. To be a lifeguard was his dream but he wasn't a very good swimmer. That's one of the reasons he's so passionate about the Cabrillo Beach Junior Lifeguard Program.
"It's an honor to be a Cabrillo Beach Booster. I'd like to do as much as possible so that today's kids and adults can enjoy the beach and have the same fond memories of the beach and ocean that I hold close."
Jerry was the past president of the "Catalina Surf Club" that was formed at Cabrillo Beach in 1963 and went through 1972, he was also the club photographer.
Activities Jerry loves to do are surfing, paddle boarding, fishing and camping. Jerry's other love is music. He is the leader of three bands, Jazz and Blues, Surfing music and all styles.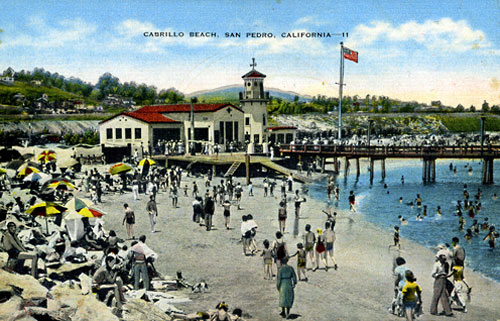 E. C. Kropp Company Postcard – Date unknown